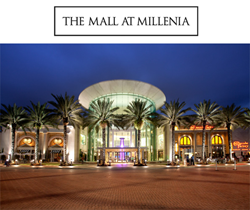 Orlando, Florida (PRWEB) May 13, 2015
The Mall at Millenia Gets Personal

Luxury brands deliver equally opulent services for shoppers.
If great shopping is an art form, then the expanded services of personal shoppers at the stores of The Mall at Millenia are the new masters.
A personal shopper serves as the link between guests and their wardrobes. Sure, they gauge a proper fit, identify trends, and customize overall looks that work best for their clients. But at The Mall at Millenia, the experience is so much more than that.
Personal shoppers help mall guests define their own individual styles. They also do the legwork. By saving clients time, educating, and offering advice, they elevate what is already a luxe experience to a delightful exercise in pampering and the art of shopping.
Mall-Wide Luxury

While department stores have a long tradition of offering excellent personal shopping experiences, new opportunities abound throughout The Mall at Millenia.
Boutiques like Saint Laurent and Chanel, which will reopen its doors this spring with the stores new, ready-to-wear-line, will also house expert stylists who are ready to educate clients on their respective brands, the current seasons collection, as well as on how to select complimentary pieces.
Perhaps you already have the perfect leather jacket, but would like to learn how to style it so it carries from day to night. This is where a personal shopper or stylist steps in.
A plush environment is also part of The Mall at Millenias enhanced, elevated level of customer service. Neiman Marcus, Bloomingdales, and Macys provide completely separate areas for personal shopping, enabling stylists to coordinate a brand-new look for guests, from head to toe, in privacy.
On the second floor of Neiman Marcus, guests are whisked to a private, personal shopping section equipped with lavish furnishings, beautiful d